Your Employees fall in one of the three categories below.
Do you know where your people land and why? Is there something you could be doing that could help them be Fully Engaged? Is there something you are doing that is actually demotivating them and you don't even know it?
What do the most talented employees need from their workplace? What do they need to thrive? What do they need to stay engaged and to do their best work? The Gallup Organization set out to answer with a comprehensive research study that has spanned the last twenty-five years. The study has produced many important findings, the most powerful of which is that talented employees need great managers.  A poor manager can derail the efforts of even the best companies, by derailing their best employees.
These questions are special because of their ability to differentiate. The 12 questions do not capture everything you may want to know about your workplace, but they do capture the most important information.  These questions capture the core elements needed to attract, focus, and keep the most talented employees.

No Guessing, It is time to find out!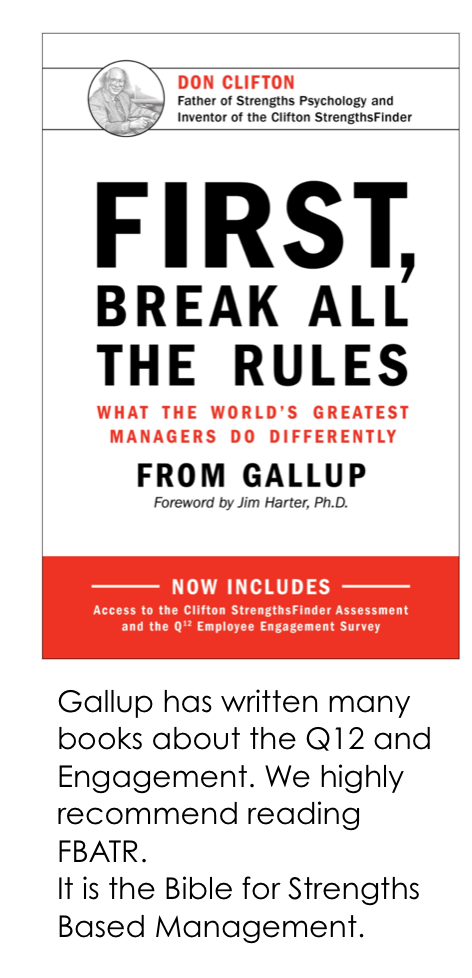 Fully Engaged
The engaged are the employees that pack the biggest punch on all the important business outcomes considered: productivity, customer retention, low turnover, safety, profitability, and growth. Gallup studies have confirmed that these employees are involved in generating ALL of an organization's profits and customer engagement. Collectively, these employees represent the positive economic force that fuels an organizations profitable growth.
The engaged employee profile:
Use their talents every day.
Consistent levels of high performance.
Natural innovation and drive for efficiency.
Intentional building of supportive relationships.
Clear about the desired outcomes of their role.
Emotionally committed to what they do.
Challenge purpose to achieve goals.
High energy and enthusiasm.
Never run out of things to do, but create positive things to act on.
Broaden what they do and build on it.
Commitment to company, work group, and role.
Potential pothole:
Engaged employees can fall into a comfort zone and stop stretching to new performance levels.
Not Engaged
The difference between this group and the engaged is twofold. First, their impact on business outcomes is not as significant. Second, they exhibit gaps in levels of engagement, which makes them less predictable as a group. Some employees may share the values and the mission of their team and organization but lack precision in terms of the expectations of their role. Others may experience the need to employ their talent more directly, while for still others the gap may refer only to the absence of a meaningful relationship with their manager. Many not-engaged employees can be considered "in transit". They are waiting for an opportunity to become fully engaged.
The not-engaged employee profile:
Meets the basics.
Confusion, or inability to act with confidence.
Low-risk responses and commitment.
No real sense of achievement.
Possible commitment to organization, but not always to role or work group.
Will speak frankly about negative views.
Potential pothole:
Not-engaged employees can lower the bar so that average is acceptable.
Actively Disengaged
The third group represents real trouble. This group accounts for most of the waste in terms of lost workdays, incredibly high safety costs, higher levels of turnover, low productivity, and customer defection. Collectively, these employees represent a negative economic force actively at work within organizations. They are living and breathing obstacles to meeting customer requirements.
The actively disengaged profile:
Normal reaction starts with resistance.
Low trust.
"I'm OK, everyone else is not."
Inability to move from the problem to the solution.
Low commitment to the company, work group, and role..
Isolation.
Won't speak frankly about negative views but will act out frustration, either overtly or covertly.
Potential pothole:
Actively disengaged employees will want to be told what to do, with no recognition of the desired outcome. "Tell me what you want and I'll do it."