Key Concepts
In 12: The Elements of Great Managing, authors Rodd Wagner and James K. Harter discuss the most important characteristics of a successful manager. The authors include advice such as:
• Managers, not top-level executives, are the most critical for motivating and guiding employees.
• Managers should harness the power of fundamental human needs, not attempt to fight or change them.
• To fulfill their employees' need to contribute meaningfully, managers must ensure that their employees understand their roles, have the right materials, and are given opportunities to develop.
• To make their employees feel as though they belong, managers must demonstrate holistic care and cultivate a work environment of camaraderie and cooperation.
The First Element: Knowing What's Expected
This element seems like one that every functioning company must have already mastered. But research shows that only about half of the employees "strongly agree" that they understand their company's expectations. The complexity of the first element lies in the employees' understanding of not only what is expected of them as individuals, but also how their individual efforts coordinate with their immediate workgroups to benefit the larger company. The trickiest aspect is helping employees understand the expectations well enough to adjust to changing circumstances.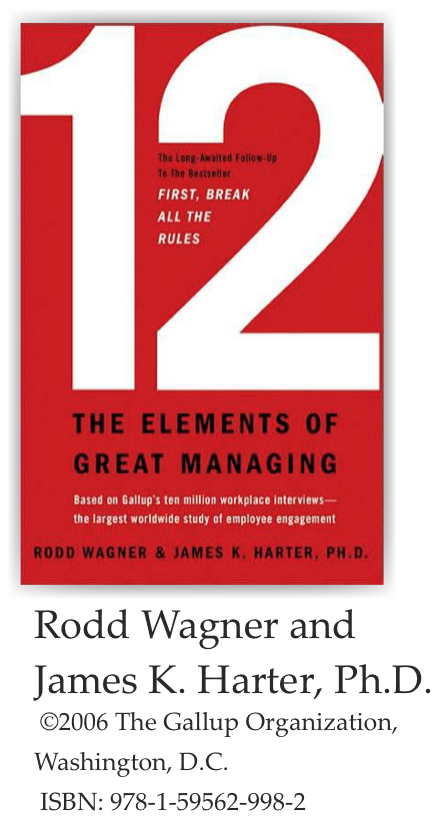 The Second Element: Materials and Equipment
Humans are creatures of habit, and a major aspect of the second element is that employees need to have a reliable and familiar personal work space. Despite the rise of paperless, wireless technologies, humans still exhibit a desire for tangible tools and personal space. Many of these tools are crucial for performing jobs well, but just as important is the

emotional security that comes with having one's own items. Employees who are given the right tools to do their jobs are more productive and feel that the company is supportive of them and their work. The second element is closely related to job stress, both at work and at home. In fact, two-thirds of Americans lacking the proper tools are more likely to bring stress home, while only one-fourth of those who are well-supplied do so.
The Third Element: The Opportunity to Do What I Do Best
The Fourth Element: Recognition and Praise
The Fifth Element: Someone at Work Cares About Me as a Person
The Sixth Element: Someone at Work Encourages My Development
The Seventh Element: My Opinions Seem to Count
The Eighth Element: A Connection With the Mission of the Company
The Ninth Element: Coworkers Committed to Doing Quality Work
The Tenth Element: A Best Friend at Work
The Eleventh Element: Talking About Progress
The Twelfth Element: Opportunities to Learn and Grow